BACK TO SCHOOL TIME!!
IF YOU HAVE NOT ORDERED YOUR CHILDS SPIRIT SHIRT PLEASE DO SO AS SOON AS POSSIBLE. CLICK BELOW FOR A LINK TO THE ORDER FORM!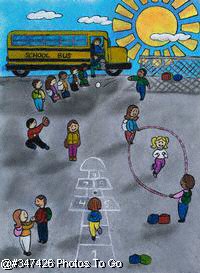 On Wednesday August 3rd the Faculty was treated to a luncheon by the Home & School during their In-Service. The food was prepared by Murray's Supermarket and was a welcome treat!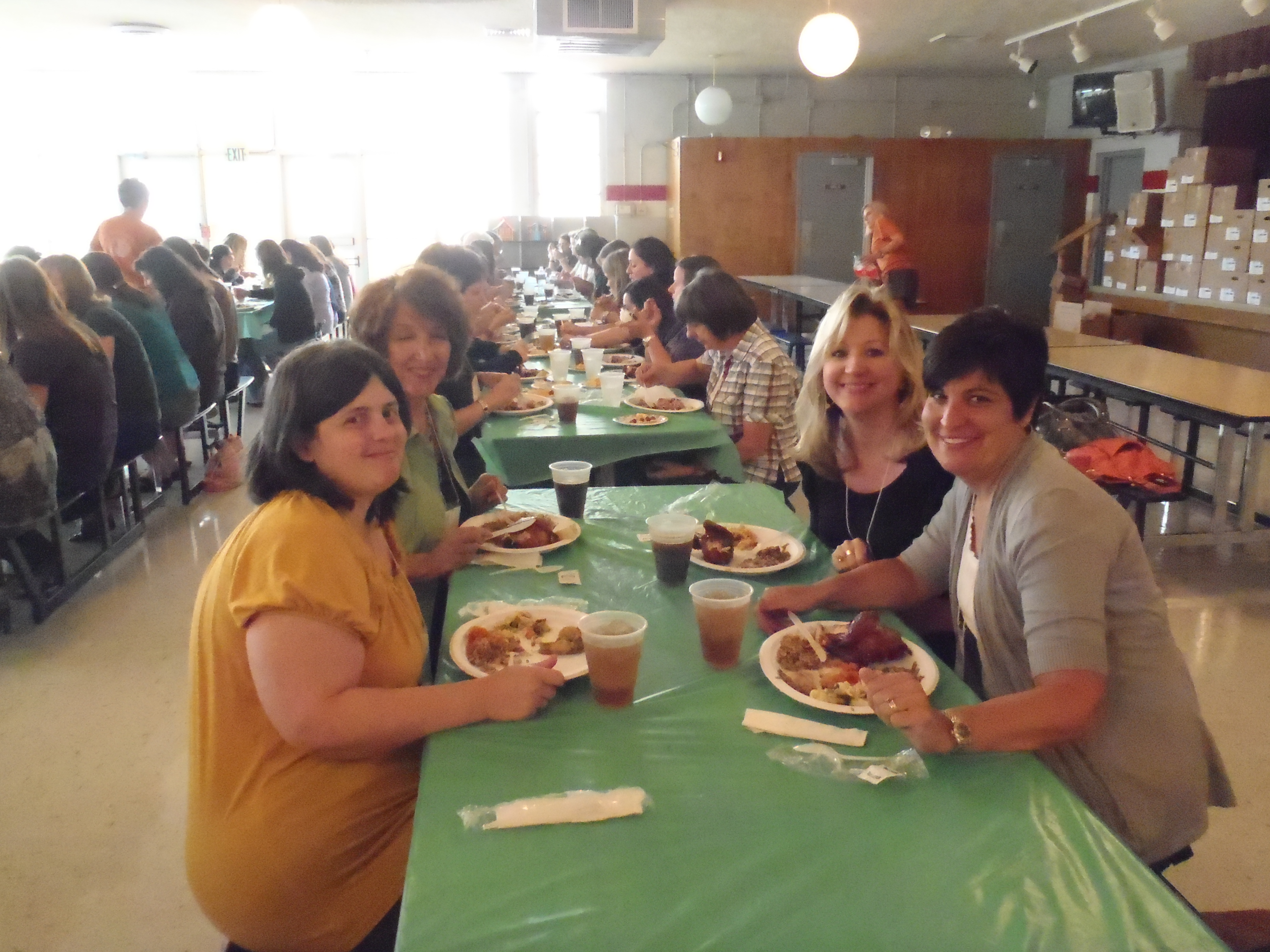 Congratulations to the Rye Family!
Pictured at left are Darla and James Rye, parents of St. Theresa student Emily Rye, along with Solie Brown, president of the St. Theresa Home and School Association. Mrs. Brown presented the Rye's with a check that will cover the tuition for their daughter for the 2011-2012 school year. The Rye's were selected as the winners of the free tuition raffle held by the St. John and St. Theresa Home and School Association for those who volunteered throughout the year. For every 10 hours volunteered, the parent's name was entered once into the drawing. The total number of hours volunteered at both St. Theresa and St. John Primary schools was 6,302 from February 2010 to April 2011.
The STA/SJP Home and School Association has been around for many years. Originally, the "Warriors Club" was in charge of class parties. Through the years it has slowly evolved into the organization that it is today -- an integral part in the organizing, planning and staffing of the many events throughout the school year. Although the H&S is rooted deep in tradition, change and new faces are ALWAYS WELCOME! YOU are this association and without the help of all STA/SJP families, we would not function!!
Our Mission---
Our hope is to keep parents informed of the activities sponsored by the Home & School. We hope to give you the chance to comment, question and share your ideas on enhancing the lives of our students.
The objectives of the STA/SJP Home and School are:
To enhance and contribute to the religious, academic, and social experiences of the students of St. Theresa and St. John schools.
To promote open communication among parents, teachers, and administrators.
To provide parents and teachers with the information to aid in all aspects of education growth and development.
To direct and coordinate parental support to St. Theresa and St. John through assistance with activities, social functions and fundraisers.
To foster the political action of parents as advocates regarding national, state and local legislation that affects Catholic schools as well as the lives of students and parents.
We work under the leadership of the Diocese of Baton Rouge Home & School Association.
Home and School Meetings
There are two general meetings held during the school year. The first meeting takes place during the first or second month of school to discuss H&S activities for the year as well as room parents and their duties. The second meeting is held during the spring semester to discuss STA Field Day and SJP Fun Day. Meetings are held during the evening and are open to all STA/SJP parents. Dates, times, and locations for these meetings will be posted at a later date.
News:
Volunteer T-shirts will be sold during Meet-the-Teacher mornings and each of the parent nights. Volunteers are encouraged (but not required) to wear these T's while working at various Home & School sponsored events.They will be sold in adult sizes only. Be on the lookout for these! Supplies will be limited.
Home and School has a new email address! If you have any questions/concerns/helpful hints, please email us at stasjhomeandschool@gmail.com. Thank you!
We need you...to volunteer!
Volunteers are one of the most important parts of our schools. Many events would not be possible if we did not have volunteers to work them. Below are pictures from the Fun Day at SJP and Field Day at STA, which require lots of parent/grandparent volunteers. The kids count on having these events and many others throughout the year, but we need your help to have them.
You will receive a volunteer information packet at the beginning of school. We realize that you will be overwhelmed with paperwork during this time, but we hope you find a moment to review the information and sign up to help in some way. Even if you can only do one or two things on the list, remember every little bit counts. Thank you in advance!
Fun Day 2010
SJP students line up for tasty snoballs.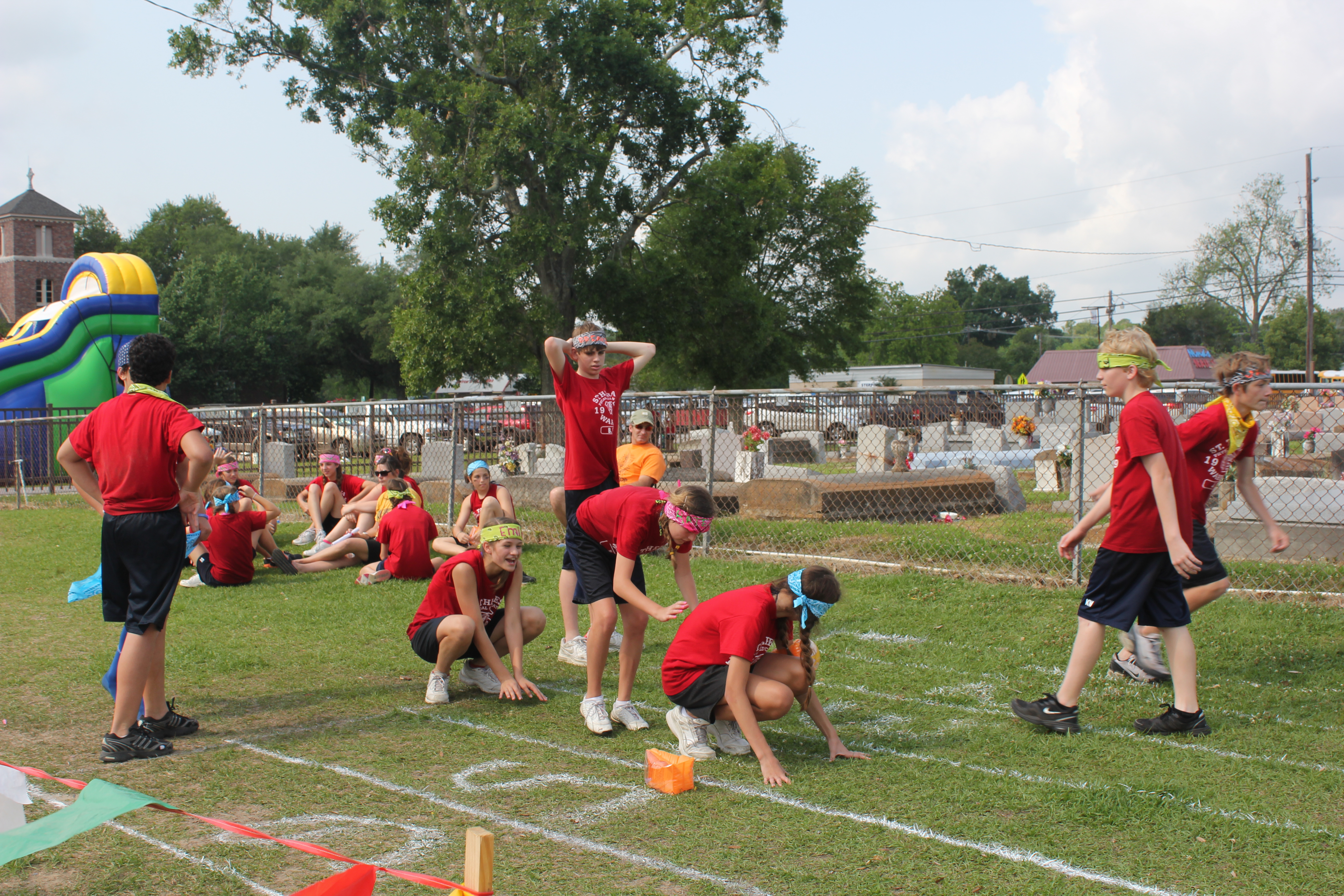 Fun Day 2010
SJP students enjoy the beautiful day!
MOTHER SON DANCE '10 -SPORTS THEME
Field Day 2010
This trio is all smiles for the big day.
Field Day 2010
Tug of war has never been so fun.
Field Day 2010
Just a little bit of shaving cream was used during the day.
Volunteer Forms

For the 2010-2011 School Year the Home & School Association will be making every effort to GO Green! Many forms for volunteering will be available on the website and will not be sent over and over again home to parents. Please make an effort to save forms and send them back in a timely manner. Most volunteer notices will be sent via email as well. This is really the fastest and most efficient way to communicate in today's fast paced life. It's great to meet new people at school through volunteering and many lasting friendships are formed in this way. We hope to see many fresh new faces next year!
The Caring and Sharing Committee is an ongoing service committe which provides services including meals to St. Theresa families during difficult and congratulatory times. This is a way in which we can show our support and share our faith. If you would be interested in helping please contact JENNIFER BOURGEOIS for St. John Primary campus and KRISTA MADERE for St. Theresa campus if you have any information we could use. Contact info is on the next page with list of officers. Also, the only way we get info about a sick student or family member, birth of a child, death of a STA family member, etc.. is through word of mouth. Please contact home & school should you have info regarding such. Thanks!
Click here to see the cafeteria volunteer calendar --substitute list also posted here.